In the UK, the average person has a carbon footprint of 12.7 tonnes CO2e per year, and 23% of this comes from their food purchases*. That's more than their household and vehicle fuel emissions combined! This means the biggest difference we can all make is focussing on our food purchases.
In Jan 2021, Norwegian online retailer ODA started providing their customers with the carbon footprint of their orders on their receipts. And this happened to ODA food purchases:
Meat substitutes grew by 80%
20% of burgers sold were vegetarian burgers
ODA's customers bought 50% more fruit and veg than the average customer
These results demonstrate that with trusted data insights, people are prepared to change their behaviour.
But dig a little deeper and the absolute focus on climate, particularly CO2, at the expense of other sustainable considerations, creates significant unintended consequences. Our planet has significant biodiversity challenges, crucial to societies worldwide. Thousands of species already having gone extinct this century.
An absolute focus on carbon misses the mark for many consumers
It isn't a one-size fits all. In some countries, consumption of animal-sourced foods may need to increase to tackle burdens of undernutrition. WWF recognises food producers as valuable stewards of our land and waters, and many protect vital biodiversity. So, we need to avoid simply converting land for agriculture. We must restore native ecosystems and shift to nature-friendly farming.
Our customers tell us sustainability means a wide range of different things to them, and this changes over time. They have a complex mix of values and priorities which are constantly evolving.
It's not all just about carbon. Animal welfare, plastics, sustainable palm oil, additives, chemicals and societal impacts of wages and slavery are all part of shoppers' values and considerations when buying food and groceries.
With almost 100,000 downloads and millions of searches, analysis of how users of our Impact Score Shopping app demonstrates this effectively. While an impressive 35% of users are interested in the Low Carbon Footprint badge, this leaves 65% who care about other factors.

Consumers don't trust what brands are saying about their sustainability credentials
When it comes to what shoppers are most interested in, their text searches give some useful insights. Of the ten most searched for phrases (each searched thousands of times), five are brands. Namely Nutella, Cadbury, Quorn, Oatly and Ecover. Consumers aren't satisfied that brands are telling the truth, regardless of whether they are one of the 'new breed' of perceived sustainable businesses.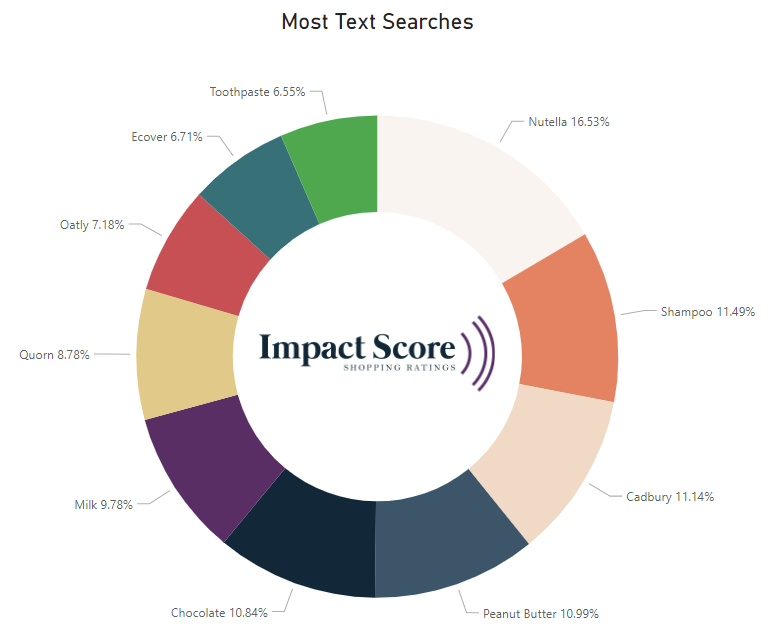 What products do people care about?
What's even more insightful than text searches are the categories of the products searched. As you can see from the chart below, meat categories just do not feature. The first mention comes in at number 100 (pies & snacks, behind hair brushes!). What does this tell us? We think the message about eating less meat is getting across. And shoppers are most curious about the more 'snacky' and processed products.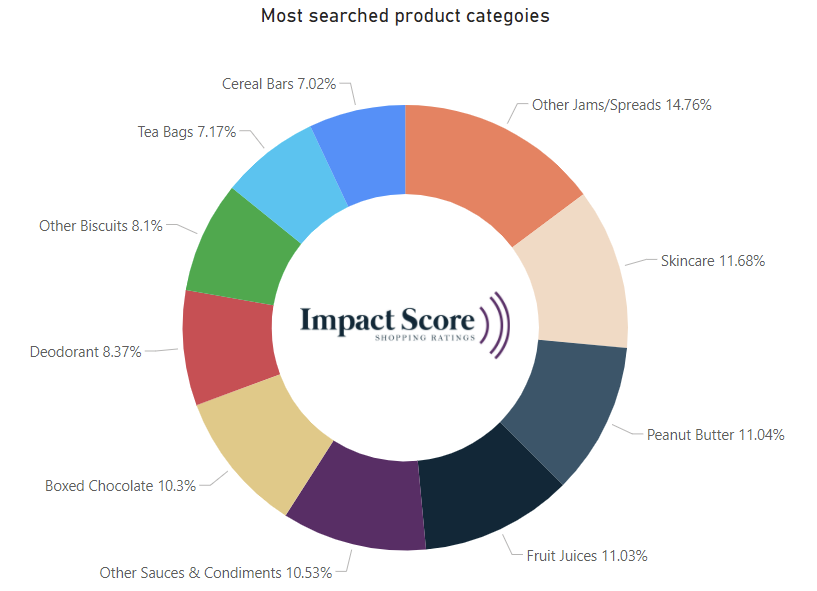 Shoppers with information do change their habits
One thing we agree with ODA about is that shoppers are crying out for more information about the sustainability of products and brands. And when presented with this information, they do change their habits. 83% of our app users tell us they have changed their mind about buying a product based on the broad sustainability insights we serve to them.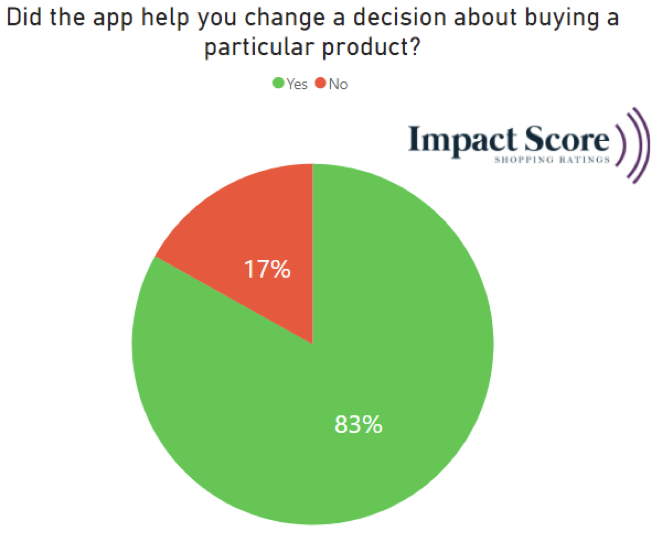 The continued growth of our app community demonstrates the desire for simple, independent sustainability information. But we can't wait for governments, lobbyists (and indeed the brands who seem to be dragging their heels) to come to the party – it needs to be now. So we are starting to work with some UK retailers and brands to reach more shoppers and help them on their journey to a more sustainable lifestyle.
Author: Ian Yates, Impact Score
Email: [email protected]
LinkedIn: https://www.linkedin.com/in/yatesi/
Download the app: https://www.impactscore.app/shoppers/
This opinion piece is in response to Norwegian online grocer Oda's news on Jan 21, written up by The Independent 'Customers shun red meat after carbon footprint added to weekly shop receipts'>
* Mike Berners-Lee – researcher and writer on carbon footprints, Professor and Fellow of the Institute for Social Futures at Lancaster University.