Source: The Trends Shaping Shopping
This research was carried out by Opinium on behalf of American Express in July 2022, surveying a nationally representative sample of 2,000 UK adults. Respondents were asked a series of attitudinal and behavioural statements that related to the four different shopping profiles. They were allocated to a group if they selected over 50% of the qualifying statements for one (or more) of the profiles.
Spotlight on Sustainability
One of the key themes that emerged is the importance of sustainability and how rising climate consciousness is impacting shopper behaviour – and what it means for retailers.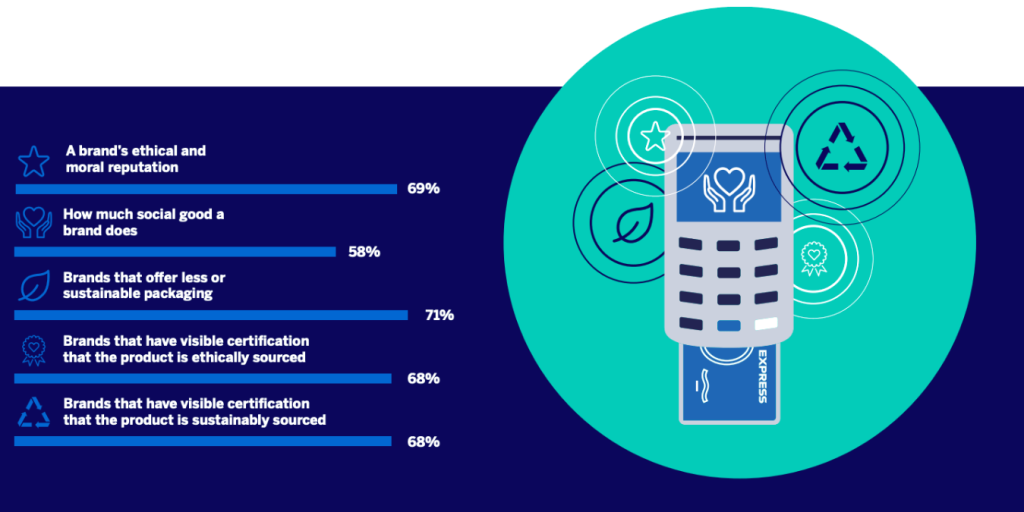 And who are 'Sustainable Shoppers'?
With the climate crisis increasingly front of mind for consumers, Sustainable Shoppers are laser focused on how they can limit their environmental impact when shopping. This impacts every aspect of their shopping experience – retailer choice, what they buy and how often they spend.

As well as shifting their shopping closer to home, this group is also being increasingly discerning about where they buy from. Almost two thirds (63%) would only shop with a retailer offering sustainable delivery options. The vast majority agree that sustainable packaging, doing social good and a brand's ethical reputation are all important when deciding who to spend with.
Sustainable Shoppers have generally changed their purchasing behaviour. Two in five say they are cutting back on spontaneous purchases and instead only shopping for items that they need. There is also a focus on quality over quantity, with almost seven in 10 (68%) saying they are buying fewer, better-quality items. However, a proportion of these shoppers are utilising social commerce, with around one in six saying it's a good way to explore new brands and a similar amount have bought items on social media sites in the last year, suggesting they are buying more pre-loved items on marketplaces, for example.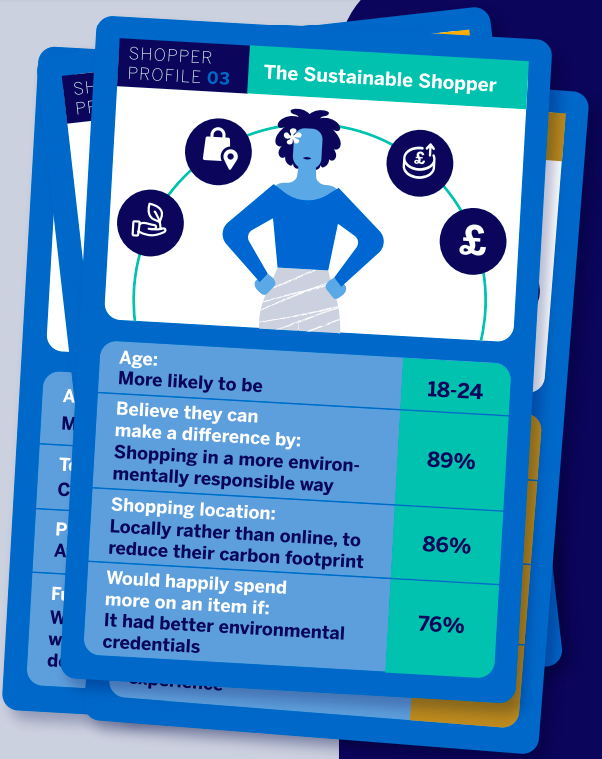 Leading more sustainable lives is, of course, an important societal trend, and the pandemic helped bring sustainable shopping into sharper focus, due perhaps to the huge surge in online shopping and resultant deliveries – making us all more acutely aware of our carbon footprint.
This group say that the pandemic has made them shop more sustainably (31%), shop more on local high streets (31%) and spend more on better quality essentials (21%).
Source: The Trends Shaping Shopping